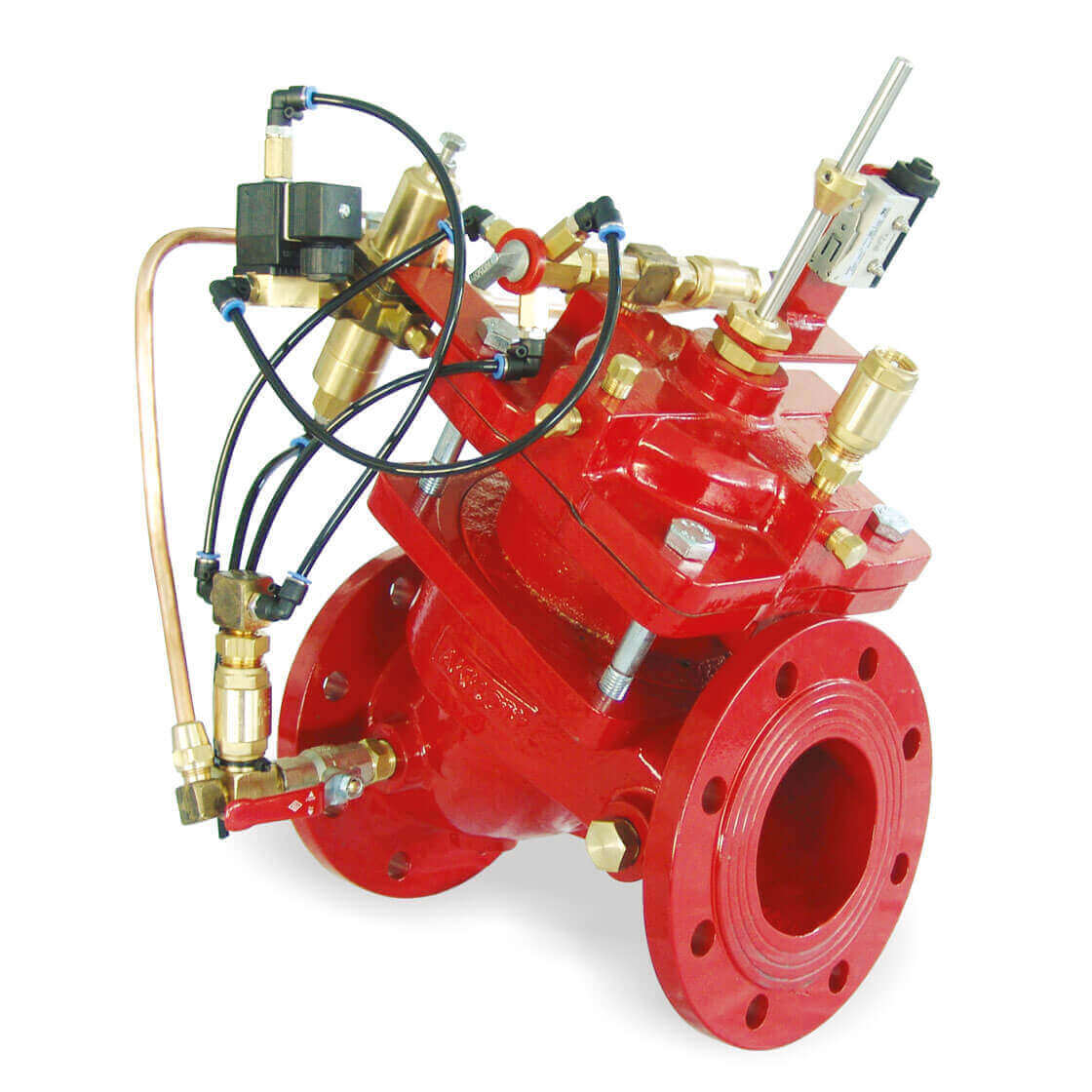 Entrance Pressure Adjustable Pump Control Valve
Control Valve Function:
Designed to control the pump during pump operation. Why is there a need for control pumps? Because if the outlet line is empty when it turns on, the pump will rise at full load and continue working under full load. This causes the pump to use excessive electricity. Mechanically, because of the extra drop in pressure the pumps fans stay at cavitation. The entry pressure monitoring pump control valve has been specifically designed to control drops in pressure at the outlet of the pump. This function ensures electrical load-free start and rated flow as well as mechanically cavitation free operation. If the delivery main is full, for example when the main is feeding a storage tank, the pump control valve switches from closed position to fully open position very gradually preventing any damage that may occur from water hammer effect, and ensures a load free start. When it is necessary to turn it off the AKKON 243 Series Control Valve closes gradually protecting the fixture from watter hammer, and turns the pump off. In the case of a power outage where the flow direction may reverse, this valve acts as a knock-free check valve to prevent the flow direction from changing. The control valve is double control chambered, because it needs to be able to achieve complete open position (On / Off operation). The manual control valve on the control panel allows for manual adjustment of fully open, fully closed and automatic positions.
Entrance Pressure Adjustable Pump Control Valve Pilot Control Circuit:
☆ The pilot circuit works efficiently for extended periods due to a fully otomatic self cleaning ½" filter
☆ The fittings in the control circuit are ½" automatic filter, as the pilot DN 1/8"-1/4" 3/2 multiport normally open/shut selenoid valve and 3/2 multiport pressure control pilot valve, 2 ½" checkvalve, limit breaker, ½" global valve, 3/8″ copper pipe and pounded brass pipe fittings.
☆ Copper or polyamide piping and pounded brass pip fittings.
☆ ¼" manual selective valve.
☆ The pilot valve, made with pounded brass, has rustproof interior components.
☆ Function with AC and DC voltage.
☆ Selenoid valves electrical features :
AC 50Hz – 24-230 V
DC 6-12-24V
Other general use is compatible to NEMA-1

Application
Fixture Assembly Details:

Entrance Pressure Adjustable Pump Control Valve Technical Details:
☆ 60º slanted half linear flow body suitable for an attaching to diaphragm type actuator with single and double control reservoirs
☆ Functions automatically with the pressure of the line it is attached to.
☆ Diafphragm; polyamide court fabric knitted double layered neoprene rubber.
☆ The changeable rectangularly designed flap rubber ensures complete leak prevention.
☆ Diyaframın eksenel ve radyal merkezlenmesi ile diyafram ömrü sonsuzdur.
☆ Easy maintenance without detaching.
☆ Gövdeye pasolu değişebilir Bronz Burç.
☆ All valves are submitted to hydrostatic and function tests.
☆ All valves are coated with wear resistant, kiln fired electrostatic EPOXY coating.